SOC Staff Members
---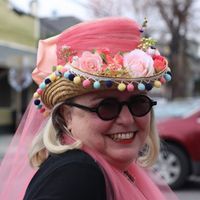 ---
Carolyn Sinclair, Executive Director
Originally from New York City, Carolyn graduated with a Bachelor of Fine Arts degree in Communication Design from the prestigious Parsons School of Design.
For years, Carolyn worked in retail and fashion advertising as a Graphic Designer and Art Director in NY, NJ, and Boston, MA. After a move to New Orleans over 25 years ago, she became a Sr. Art Director for the South's largest ad agency, Peter A. Mayer Advertising working on accounts such as Lake Lawn Funeral Home, New Orleans Tourism, and Louisiana Tourism. 
Carolyn was first introduced to New Orleans in 1998 by reading Anne Rice novels. The eloquent and descriptive way Anne wrote about the city made an indelible impression and a move to the Crescent City became inevitable. 
A pivotal moment for Carolyn came when she took a cemetery tour which was led by - no other than - SOC Founder, Mary Louise Christovitch, Carolyn was instantly enamored of these Cities of the Dead and the mission of Save Our Cemeteries.
Fast forward 20+ years.
Carolyn started at Save Our Cemeteries in January 2018 as the Tour and Marketing Director and was thrilled to find her "dream job". 
Long story short - through some organizational changes, COVID, and a few lean years, Carolyn has worked tirelessly and almost single handly to keep the organization afloat. Working with her active Board of Directors, she hopes to raise the profile and increase the coffers of Save Our Cemeteries so their mission of Preservation and Restoration can once again be realized.