Restoration & Preservation - PAST PROJECTS
---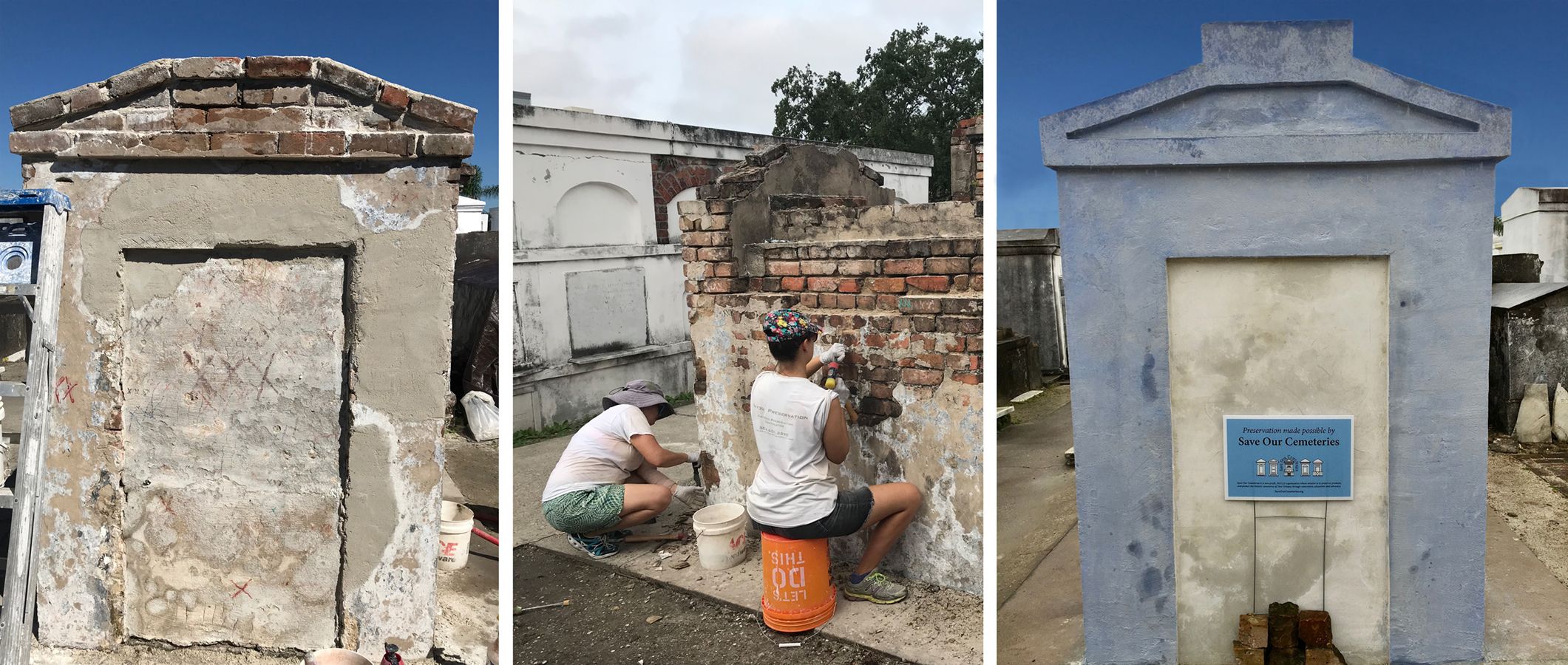 The Alaux Family Tomb, St. Louis Cemetery No. 1
From "Faux Laveau" back to Alaux, Save Our Cemeteries has restored the Alaux Family tomb. Once covered in graffiti, this historic tomb is now looking better than ever. Restored by Bayou Preservation, a team of historic preservation and restoration professionals, the projects took several months to complete. From rebuilding the interior brick vault to lime-painting with the original colors, the Alaux tomb was restored using the proper materials and methods every step of the way. We hope that from this point on the tomb will serve as a monument to the Alaux family, and all the beautiful artwork they created for the city of New Orleans.
---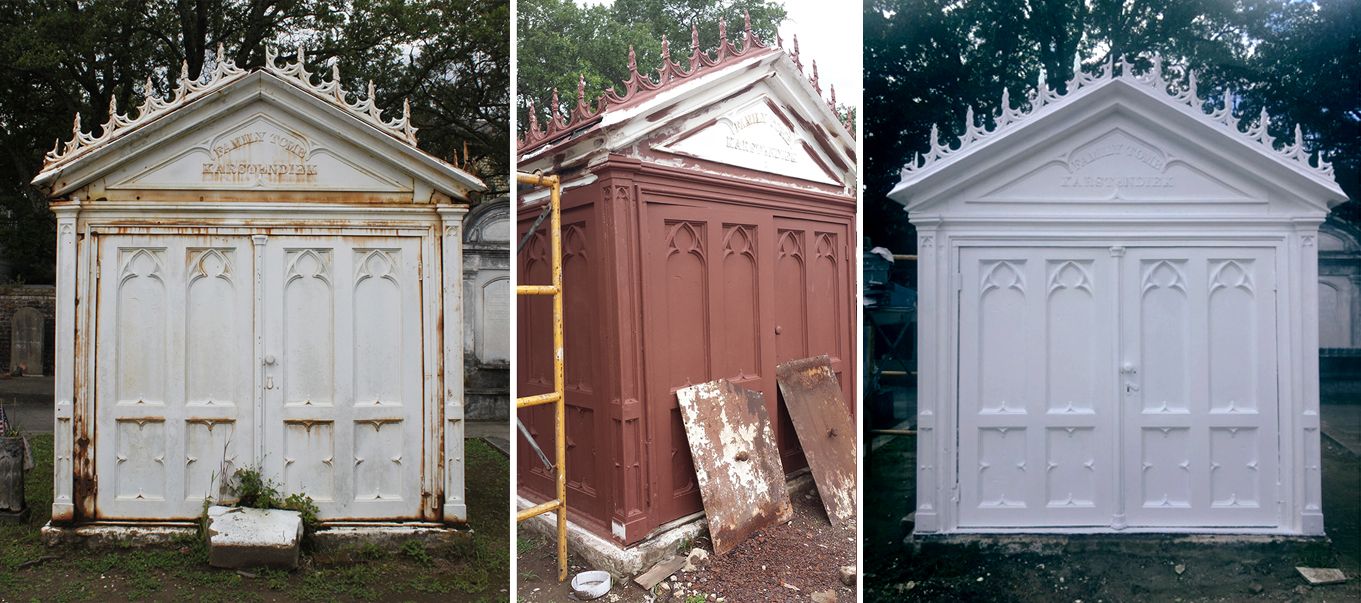 The Karstendiek Family Tomb in Lafayette Cemetery No. 1
Although it is one of many unique tombs that occupy Lafayette Cemetery No. 1 in Uptown New Orleans, the Karstendiek tomb is a particular treasure because it is the only cast iron tomb in Lafayette Cemetery No. 1, and one of only 16 in all of Orleans Parish. The tomb is also popularly known as the "Vampire Lestat Tomb" because of its striking resemblance to the tomb prop featured in the film adaption of famed author Anne Rice's novel Interview with the Vampire.
SOC will repaint the tomb every three years to prevent rusting.
---
St. Louis Cemetery No. 1:
A Scope of Work is being created for the Trudeau family tomb. This tomb will be worked on after the Alaux tomb is restored.
St. Louis Cemetery No. 2:
SOC will be restoring three tombs in Square No. 1, in partnership with the Master Crafts Guild. The Restoration Committee is in the process of choosing the three tombs to be repaired.
Holt Cemetery: 
In April, SOC cleaned 22 military headstones and picked up trash.
SOC designed six signs to place throughout the cemetery and on the side of the sexton's cottage. These signs will educate visitors on the history of Holt, burial customs, and notable characters and veterans buried in the cemetery. See the signs here.
Valence Cemetery No. 1:
Save Our Cemeteries completed a clean-up, vegetation removal, and tomb washing with a group of college students.
Lafayette No. 2 & St. Joseph Cemeteries:
SOC completed a clean-up, vegetation removal, and tomb washing with a large convention group earlier this year.
---
Carrollton Cemetery No. 1:
Master mason Mr. Herman Clayton is working with our Restoration and Volunteer Coordinator Juliette Hotard on closing open vaults, repairing several copings, and repairing brickwork on a German society tomb.
Second generation brick mason Herman Clayton takes a closer look at a German Society Tomb.
---