BOOK A TOUR
---
Mourning in New Orleans
Friday, Nov. 6 at 7 and at 8:30
Covered mirrors. Frozen clocks. Black veils. Get fascinating insights into Creole mourning customs at the Hermann-Grima House tour, along with a slideshow tour of St. Louis Cemetery No. 1 presented by Save Our Cemeteries. We will host you for a 30-minute tour of the Hermann-Grima house "dressed" in mourning and also tell you about the burial customs of New Orleans with Save Our Cemeteries Tour Guide, Jeanne Wilson for 30 minutes. 6 people will visit the house while 6 are in the courtyard. After 30 minutes the parties will switch to maintain social distancing. Masks are required. 
Tickets $29 
---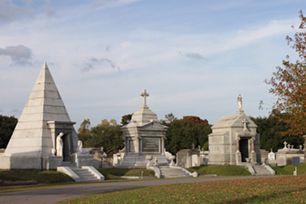 Metairie Cemetery
By appointment only  | 1.5 hours | One of NOLA's largest cemeteries!
One of the city's most stunning Cities of the Dead is Metairie Cemetery, named by Forbes as one of ten of "America's Best Cemeteries." The cemetery was established in 1872 on a former racetrack, which is why the cemetery follows an oval layout. Metairie Cemetery holds the graves of over 9,000 people, including at least nine Louisiana governors, seven New Orleans mayors, 49 kings of Carnival, and three Confederate generals. Bandleaders Louis Prima and Al Hirt, restauranteurs Al Copeland and Ruth Fertel, and former Saints and Pelicans' owner Tom Benson are also interred here. Masks are required.
By appointment only.
Tickets $25, Kids under 6: free.


---
Lafayette No. 1 is CLOSED FOR REPAIR UNTIL FURTHER NOTICE
---