BOOK A TOUR
---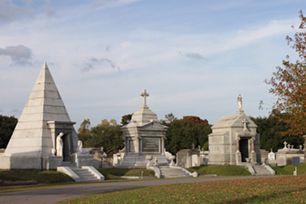 Lake Lawn Metairie Cemetery
1.5 hours | Named by Forbes as one of ten of "America's Best Cemeteries."
The most stunning "city of the dead" is Lake Lawn Metairie Cemetery. This picturesque cemetery boasts some of the grandest funerary architecture and sculpture in the US. Live oaks surround greek temples, gothic and Islamic style tombs, obelisks, and marble monuments with beautiful ironwork and stained glass.
The resting place of many of New Orlean's most influential and notorious citizens, Metairie Cemetery holds the graves of over 9,000 people on 65 landscaped acres. Nine Louisiana governors, seven New Orleans mayors, 49 kings of Carnival, and three Confederate generals rest alongside madams, brothel owners, bandleaders Louis Prima and Al Hirt, the future tomb of writer Anne Rice, and former Saints and Pelicans' owner Tom Benson.
The cemetery was established in 1872 on a former horse racetrack and is the home of Save Our Cemeteries' annual Run Through History race fundraiser for preservation and restoration of New Orleans Cemeteries.
This is an easy walk. Wheelchair accessible. Masks are required.
Sundays at 10 am 
Tickets $25, Kids under 6: free.


---
Lafayette No. 1 is CLOSED FOR REPAIR UNTIL FURTHER NOTICE
---