BOOK A TOUR
The story of New Orleans begins here. No city celebrates life, or death, quite like New Orleans. Come learn about jazz funerals. Find out why most of our dead are buried above-ground. Hear tales of the famous soldiers, statesmen, musicians, and even Storyville madams who rest in our Cities of the Dead. Our tours are both historically accurate and entertaining. (You can't make this stuff up!) Most importantly, proceeds from our tours go to preserving our unique cemeteries.
---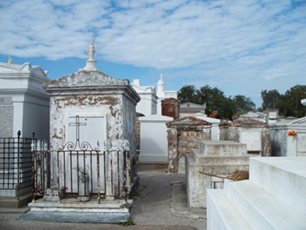 St. Louis Cemetery No. 1
Daily | 1.5 hours | Our most popular tour!
Explore New Orleans' oldest surviving burial ground, home to notorious and eminent figures like Homer Plessy (of Plessy vs. Ferguson) and "Queen of Voodoo" Marie Laveau, chess prodigy Paul Morphy and the future tomb of actor Nicolas Cage.
​​​​​​Tours are Mon. thru Sat. at 9 am, Fri, Sat, & Sun at 10 am, Thurs, Fri, Sat, and Mon. at 11 am
Tickets: $25, Kids under 6: free.
---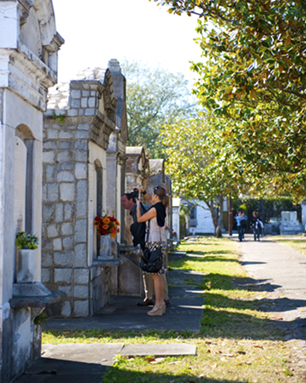 In the Garden District, Lafayette No. 1
Daily | 1.5 hours | Uptown in the Garden District
Larger-than-life people entombed in this lush cemetery, include Judge Ferguson of the Plessy vs. Ferguson "separate-but-equal" case, Brigadier General Harry T. Hays who led the 1st Louisiana Brigade in the Civil War, and the Brunies family of jazz musicians. But perhaps the most famous residents of Lafayette Cemetery No. 1 are fictional, as fans of novelist Anne Rice will know.
Tours are Mon - Fri at 9 am  |  Mon, Fri, Sat, & Sun at 10 am  |  Fri & Sat @ 11 am
Tickets: $20, Kids under 6: free.
---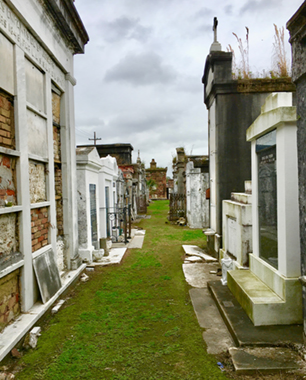 St. Louis No. 1 & St. Louis No. 2 Grand Combination Tour
3 hours | Two Tours in One!
Walk through the above-ground tombs and hear stories of both the famous and infamous buried there. From a voodoo queen to notable musicians to civil war heroes, you'll learn fascinating details about them all. Both cemeteries are included on the National Register of Historic Places and the Louisiana African American Heritage Trail. 
Tours are Sat. at 9:00 am. 
Tickets: $40, Kids under 6: free.
---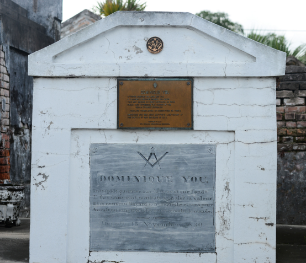 Black History Tour of St. Louis #2
By Appointment Only | 1.5 hours
Come hear tales of black poets, writers, and a skilled swordsman/mathematician. Stand at the final resting places of Reconstruction politicians, officers in the Union Army, devout Catholic nuns, and wealthy black planters.

Tours are by appointment only.
Tickets: $25, Kids under 6: free.
---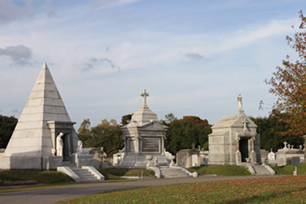 Metairie Cemetery
By Appointment Only | 1.5 hours | One of NOLA's largest cemeteries!
One of the city's most stunning Cities of the Dead is Metairie Cemetery, named by Forbes as one of ten of "America's Best Cemeteries." The cemetery was established in 1872 on a former racetrack, which is why the cemetery follows an oval layout. Metairie Cemetery holds the graves of over 9,000 people, including at least nine Louisiana governors, seven New Orleans mayors, 49 kings of Carnival, and three Confederate generals. Bandleaders Louis Prima and Al Hirt, restauranteurs Al Copeland and Ruth Fertel, and former Saints and Pelicans' owner Tom Benson are also interred here.
By appointment only.
Tickets $25, Kids under 6: free.


---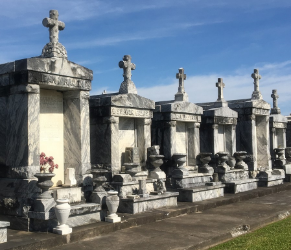 St. Louis No. 3
By Appointment Only | 1.5 hours 
Near City Park on stately Esplanade Avenue, this beautiful Catholic cemetery was a former graveyard for victims of leprosy. Today it is an ideal place to view tombs and hear the stories of the famous entombed here. St. Louis No. 3 is the final resting place of architect James Gallier, ragtime composer Paul Sarebresole, Storyville photographer E. J. Bellocq, and Chef Paul Prudhomme among others. 

By appointment only.
Tickets: $25, Kids under 6: free.
---
GENERAL TOUR INFORMATION:
Tours typically last one and a half hours. Please allow at least two hours to take our tours.
All tours leave on-time, rain or shine.
Please arrive at least 15 minutes before the tour begins, as our tour guides start their tours promptly at the scheduled times.

Tip: DO NOT rely on the streetcars (trolleys) to run on time. You may be late and/or miss the tour.

Suggested items to bring: bottled water, sunscreen, comfortable shoes, hats, umbrellas (to protect from rain and provide shade).
When touring St. Louis Cemetery No. 1, you are required to stay with your tour group at all times. Leaving your group is strictly prohibited by New Orleans Catholic Cemeteries, the owner/operator of St. Louis Cemetery No. 1.
Please reserve your spot in advance. In busy months, tours can fill up quickly. On the other hand, if no one is signed up or there are less than 4 people signed up, the tour will be canceled. If you are booking online please reserve at least two hours before the tour begins. Otherwise, call 504-525-3377 to book.
Marking a tomb is an act of vandalism and desecration of a grave site. In addition to breaking the law and causing physical damage, the vandalism of any tomb or gravesite is extremely disrespectful to the families associated with the tomb and to the deceased themselves. Marking and scratching into the stucco causes permanent damage to the exterior and increases the structural vulnerability of a tomb. Removing brick pieces from other tombs to use as markers can completely destroy what is left of an already crumbling tomb. SOC asks that if you see vandalism occurring in any of the cemeteries, please photograph the tomb if possible and contact SOC and/or the cemetery owner/operators to report the activity.