Preservation & Restoration - FUTURE RESTORATION
---
The Alaux Family Tomb, St. Louis Cemetery No. 1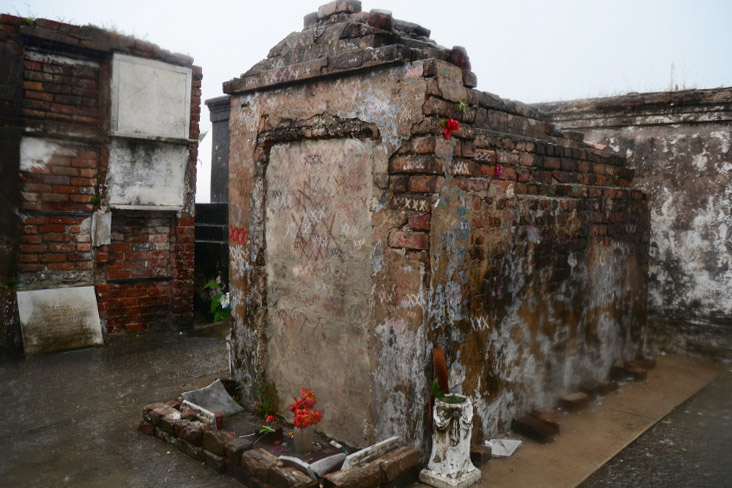 Nicknamed the Faux Laveau tomb (because some people believe that Voodoo Queen
Marie Laveau may be buried here), Save Our Cemeteries will begin the full restoration
of this tomb in the fall of 2018.
---
About Alexandre Alaux
An article from the May 13, 1923 edition of The Times-Picayune begins: 
"For many years there lived in the Vieux Carre of New Orleans an artist, who though born in France has been so closely identified with his adopted country that it may well look upon him as a son, and a son of whom to feel justly proud: Alexandre Alaux."
Today, the main reminder of this artist is the Alaux tomb in St. Louis Cemetery No. 1, containing the graves of Alexandre Alaux (1851-1932), his wife Julie (1855-1942), and their daughters Marie (1883-1958) and Louisa (1893-1963).
Frenchmen Alexandre Alaux, moved to New Orleans in 1855. He became an artist and left to study at the Academie Royale des Beaux Arts in Brussels where he and his wife Julie started a family. Around 1899, Alexandre and his daughter Marie moved back to New Orleans, working together as artists in the city.

Alaux's work was well-known for its refined and detailed style, as well as his proficiency as a miniaturist. He painted portraits of many prominent New Orleanians around the turn of the century, and also painted famous figures from the history of 18th and 19th century France and New Orleans, such as Napoleon, Marie Antoinette, Andrew Jackson, and Etienne de Bore.
Alaux's son Louis Albert Alaux was also an artist in New Orleans until his drowning death at the family's summer home on Lake Pontchartrain in 1904. After Louis' death, Alaux found a sketch his son had made of a drowning man appealing to the Virgin Mary, and made this drawing into a larger painting. This piece was given to the Our Lady of the Lake church in Mandeville, Louisiana. Louis Alaux was buried in Mandeville Cemetery.
In 1911, the Alaux family inherited a large French Quarter home from a relative. The house at 620 Ursulines Street still stands. In fact, it was the largest and most expensive house for sale in New Orleans in 2017, with an asking price of 10 million dollars. In 1919, the Census listed the value of the house at $25,000. Alaux, and his wife and daughters all lived and worked in this home for the rest of their lives.
While Marie was an accomplished artist who assisted her father, Louisa contributed to the family's work by extensively researching the historical topics behind their paintings, in order to ensure authenticity. Several contemporary newspaper articles covered the work and everyday lives of the Alaux family, with a 1929 article from The Times-Picayune describing the family's work as "among the finest produced in New Orleans today". This same article paints a picture of the Alaux family's quiet life, living in an immense house without electric lights or a doorbell, avoiding anything that would interfere with their work.
Alaux continued this work until his death in 1932. Today, several of his paintings can be found in the collections of the Louisiana State Museum and at The Historic New Orleans Collection.